About us
Since 1970 the simplicity that wins you over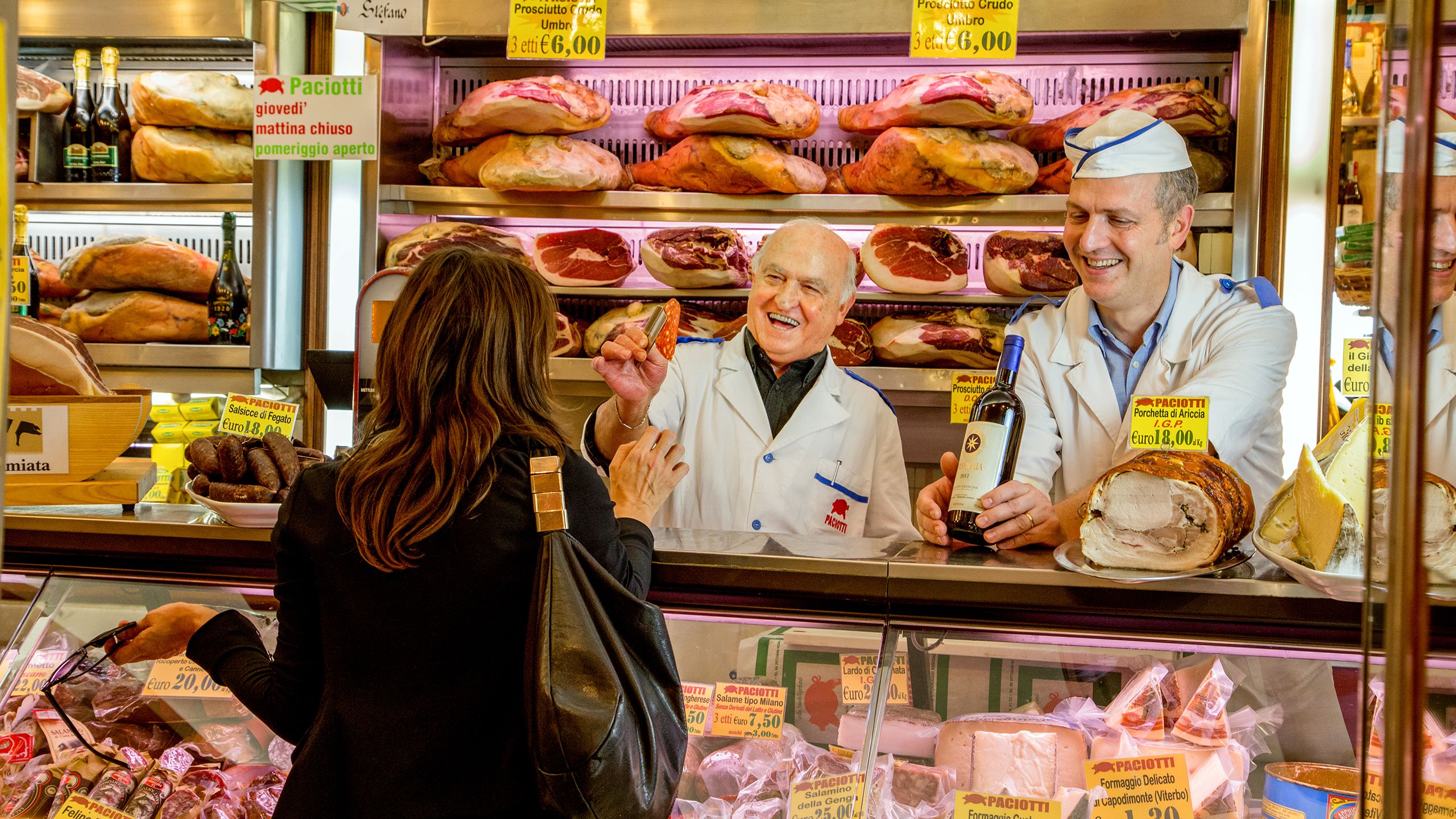 We always respect the absolute authenticity of the products, selecting them with care and keeping their freshness and goodness unaltered in order to be able to advise and accompany you trough  a journey of flavors and traditions in the name of the highest Italian and non-Italian quality. All our meats are dairy-free and gluten-free, to really give everyone the opportunity to enjoy the goodness of Italian food.
With the professionalism and competence that distinguishes us, all seasoned with the typical Roman welcome and friendliness, in Paciotti Salumeria you will find not only high quality meats and cheeses but also the best of Italian food excellence.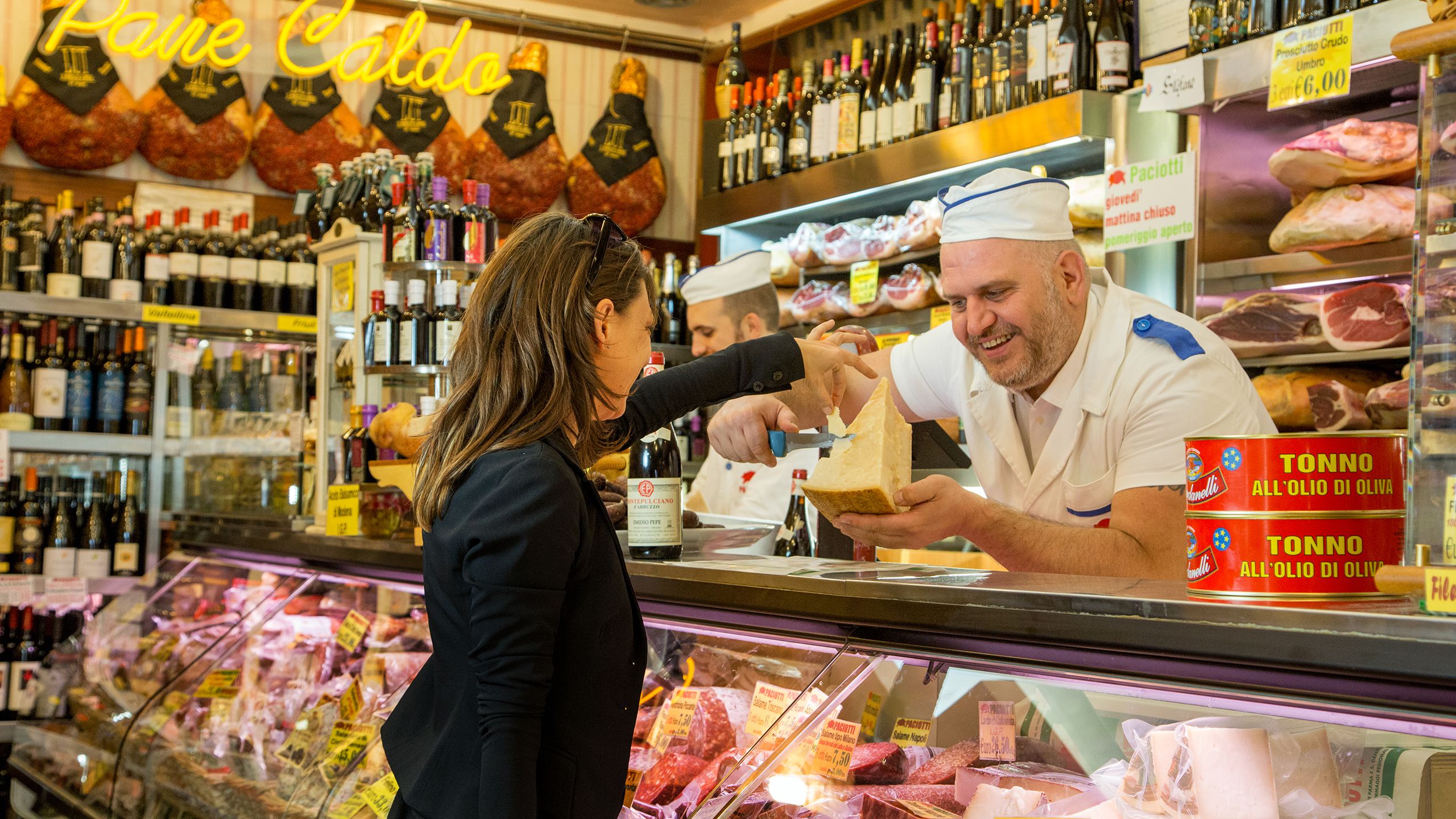 Verificata
Add it to your trip A must stop when visiting Rome. My wife an I are a little odd. When we travel we love visiting local food stores as it is part of experiencing the local cuisine. Our visit back in 2017 is still something we reminisce about. The three brothers and father made our visit wonderful. And the products are top notch including the biscotti's. We purchased the full makings for a picnic which we enjoyed in our room and balcony back at the Cavalieri Hotel. Our visit was capped off by them calling a cab and the father waving to us as we drove off.

Douglas M
12. Maggio, 2021.
Verificata
Il paese dei balocchi Entri e capisci che il rischio di tornare a casa con un camion di prelibatezze è serio. Una rassegna di prosciutti, formaggi, insaccati, specialità da tutta Italia e non solo. Io ho riportato a casa prosciutti e formaggi strepitosi.

Piero P
27. Febbraio, 2021.
Verificata
Sempre spaziale Io ormai vivo a Rio de Janeiro, ma ogni volta che passo a Roma Paciotti è una tappa fissa, tanto che i miei amici di qui quando torno mi chiedono "cosa hai preso da Paciotti?" (sfregandosi le mani quando poi vengono invitati a cena). Ogni volta che entro compro sempre di più di quello che avevo preventivato, nonostante mi limiti, altrimenti comprerei tutto il negozio. Già solo l'odore che c'è dentro il negozio è una libidine totale, resistere è proprio difficile! Tra salumi e formaggi non c'è nulla che sia meno che ottimo, quindi seguite i vostri gusti o l'estro del momento, sarà comunque un'esperienza poetica, ma vorrei consigliare anche i loro cantuccini al cacao con pezzi di cioccolato: sono strepitosi!!!

Marta S
1. Febbraio, 2021.
Verificata
What a quality! This amazing family business is a true gem! The quality is so high, we just ate their products instead of going to restaurants or cafes. You can feel and taste how much they love what they do and how much value they put to high quality. Apparently they source their products from special, small farms which also put high quality in priority, so you truly get the best possible product. We so gladly went here almost every day, to try as many things as possible. Everything we tried at Paciotti was like nothing we tasted before, although we always try to find the best cheese and ham in town. Luca, Roberto and Stefano were super friendly and helpful with our decisions and suggested amazing salami or cheese to try. They really go the extra mile to ensure perfect customer service! We really enjoyed just talking to them! We keep telling everyone about this store and even gift our friends with their products. They also ship abroad including USA, so we will keep ordering from them.
Verificata
High quality products We were looking of a aplace to buy local products and we ended up there. We bought some mozzarella di buffala, some ham, some olives, wine etc. Everything was delicious! The team is verry nice and will take as much time as necesary to advise you, explante the differences between several products, and wrap it carefully if you want to bring them back home. They make us laught so much! The team is verry friendly. We would recommande this place to anyone. Special mention to the wine advice: yes it was verry good and yes it was verry aphrodisiac. ?

Emeline & Valentin
15. Ottobre, 2020.
Verificata
La storia della salumeria romana Negozio fantastico!La storia della salumeria romana!Da provare assolutamente i vari tagli di prosciutto crudo e la bufala.

Chiara C
28. Settembre, 2020.
Verificata
Le temple de l'épicerie Italienne Vous cherchez à ramener quelques bons souvenirs culinaires de votre voyage à Rome? Foncez chez Paciotti. Une fois passé le tunnel de jambon, Vous serrez excellemment bien conseillés. Le choix est important, les produits de grande qualité. Pour le transport, pas de problèmes ils ont tout prévus. Nous avons fait le plein de salami, de pâtes, de parmesan et bien sur un peu de vin pour apprécier tout ceci.

Olivier G
11. Agosto, 2020.
Verificata
ローマでチーズやサラミならここ ローマに来る度にいつも寄る店です。今回もチーズを中心にオイルトマトなど購入。パルミジャーノもブロックを分割して真空パックしてもらいます。またスカモルツァのスモークを2つお土産に。 味見もさせてくれるのでハズレがないです。

SUmMy2000
27. Marzo, 2020.
Verificata
A true gem in Rome! My husband and I came here as a stop on a food tour but our experience here was so incredible that we had to write a separate review. The family owned shop was such a delicious and fun experience. If you are looking for an authentic, incredible Italian shop then you have to come here!

Kaylyn Bassut
8. Marzo, 2020.
Verificata
Brødrene er det hele værd Besøg denne skønne familiedrevet butik, som oser af stemning og de sindssygeste lækre delikatesser. Brødrene bag disken gør oplevelsen endnu mere levende, med deres sjove indspark, små anekdoter og kærlige drillerier. Bag deres lune lurer en kæmpe passion for - og viden om - de delikatesser de har. Et must at slå vejen forbi her,